I'm very fortunate to have had many wonderful roommates in my life. I've lived in my current apartment for 3 years and for one reason or another, my dear roommates keep leaving NYC and moving out. (It's not because of me, I swear!) Every time a new person moves in, the big sun-filled room completely transforms.
As a designer, I'm fascinated by how my roommates choose to arrange and decorate their room. This photo was taken shortly after I signed the lease and prepared to show the room to prospective new roomies.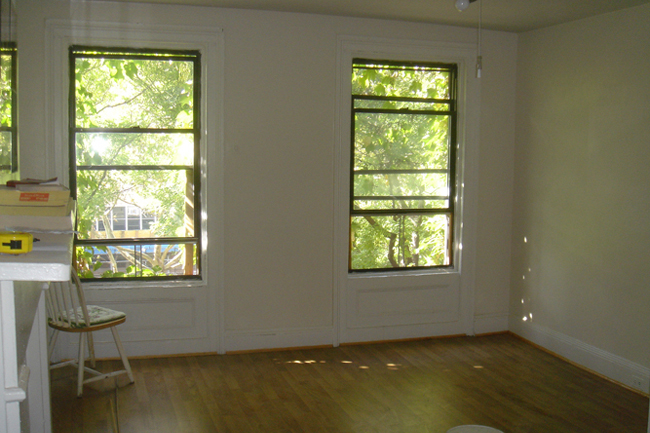 Before.
My first roommate's room. Musical instruments, board games, books.
My second roommate's room. Art, incense, paper mache alligator costume.
My third roommate's room. Books, fish, super comfy reading chair.
My fourth roommate, Katie's room! When she transitioned from her old studio in Williamsburg to my place in Fort Greene, she was overwhelmed by the stuff piled everywhere, work, and life. She had big plans to make the room pretty, but just never got around to it.
A few months later, she left the city for the summer to clear her head just as Andrea came to NYC to work on Project Runway with me. We spent a lot of time in Katie's room and decided that it could really use a face lift. The layout was awkward, the paint hadn't been touched up in years, and it didn't reflect her fun and funky personality at all. While Katie was gone, Andrea and I devised an elaborate plan to give her a surprise room makeover. We used all her existing furniture, some fun accessories that I had lying around, and just $250 to turn this room into a gem.
Temporary wallpaper panel! We added hooks so she could hang her precious scarves.
Because my old roommates had always put their bed against the short wall, we wanted to drastically change the floor plan.
I LOVE this yellow urn. It's from

Brooklyn Flea

. I bought the mirror for $5 off my neighbors.
Centering the bed on the windows made the room look much more elegant. The blue dresser was painted green.
My friend Anna gave me these stools that we painted bright orange-red.
I painted this pattern over the fireplace. God, I love geometry. The crazy metal sculpture is from a TV show I worked on.
Fleur-des-lis for her home, New Orleans. <3
This girl's scarf collection is off the hook!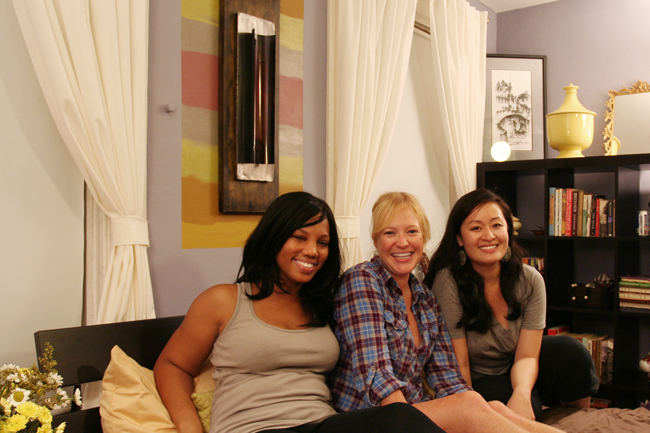 Andrea. Katie. Me.
If you live in LA and need some decorating assistance, contact
Andrea
! She's a superstar.